We have seen that the marginal vortices showed an additional drag called induced drag.

Il was thought advusabke to reduce or eliminate the induced drag. The aerodynamicist Richard T. Whitcomb and his team at the research center NASA has invented " WINGLETS " or " FINS ".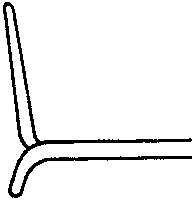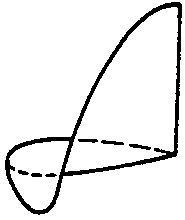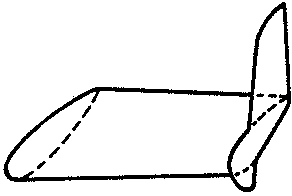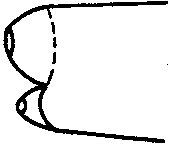 Leading edge



Two cambered surfaces to counter the local flow on the walls are fixed on the ends of the wing. The lower surface, at internal camber, strong enough and at low surface, is located towards the leading edge of the salmon. The upper surface, at external camber, and at stronger surface, is located towards the rear part of the salmon.

This device is equivalent to a gain of two points of aspect ratio on the induced drag (Lesson 4 paragraph 4). It may be more economical into mass of structure (rather than increasing the wing span), especially if the fins serve of drift. Thus, if the fins are well designed, they modify the flow of the wing at the ends (where the vortices are formed), so that a part of the drag produced by the latter is recovered and converted into propulsive force . Of course, the effect is directly proportional to the importance of vortices, which means that it is only at high lift that this effect is beneficial and valuable, that is to say in climb and cruising at high altitude. At the other flight configurations, their influence is virtually nil, yet it should not be negative where the need for a wind tunnel study very carefully and multiple flight tests to determine the best compromise on the shape and the setting of said "WINGLETS" while taking account of mean mission profile.

Fuel economy is not negligible since a KC 135 equipped of WINGLETS saves 258,400 liters of fuel a year of use by reducing drag in cruise altitude of 6%, which is considerable. This economy compensate, easily the costs incurred by the aircrafts equipment by this system that tends to spread in the future.

In addition to the beneficial aspect of the fins mentioned above, there is an operational aspect of the hunter who would be equipped with fins. Thus they offer vertical surfaces advanced, on the aircraft (other than the rear fin) that allow control of the transverse lift at the condition to make them simultaneously mobile. Indeed, in order to escape laterally to one shot in stern, (rear plane), it will be possible thanks to the fins tested currently at the USA on F4CCV and, in France with a FALCON 20 , to control laterally the flight . In 1916, the SOPWITH-CAMEL very unstable, hunted laterally once to move cross bar and sowed his assailant. In 1940, the Aerospace had developed for this purpose the LEO 48 but could not continue because of the Second World War.

Currently the idea is very seriously pickup again and will certainly equip the hunters futur.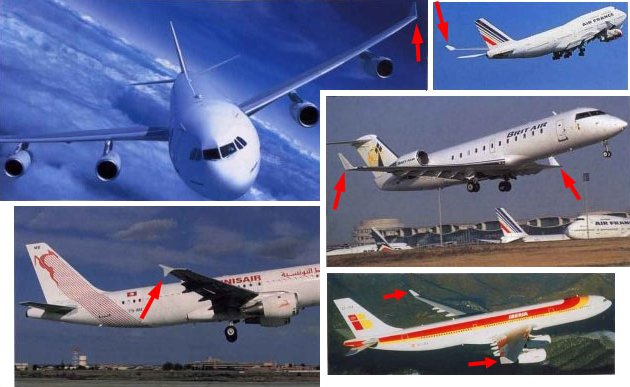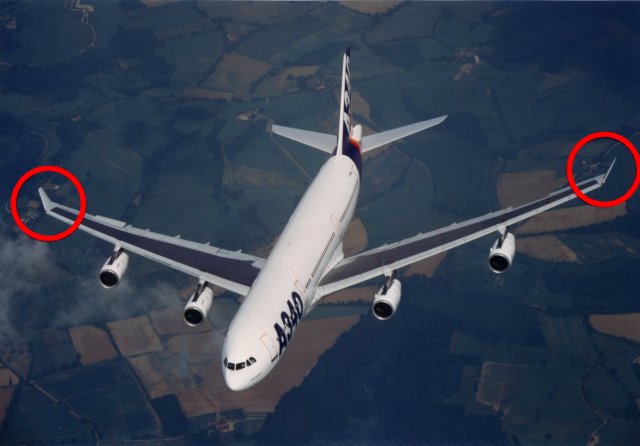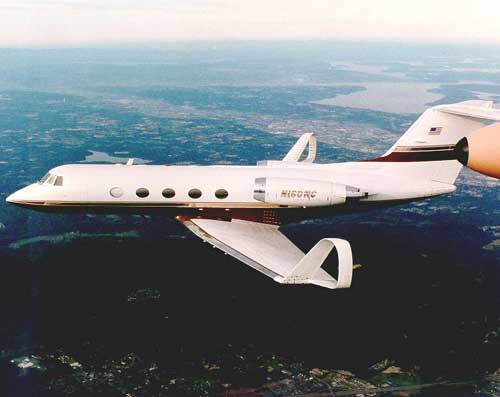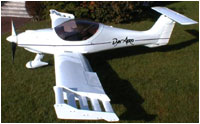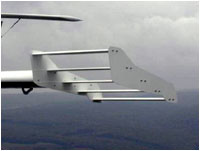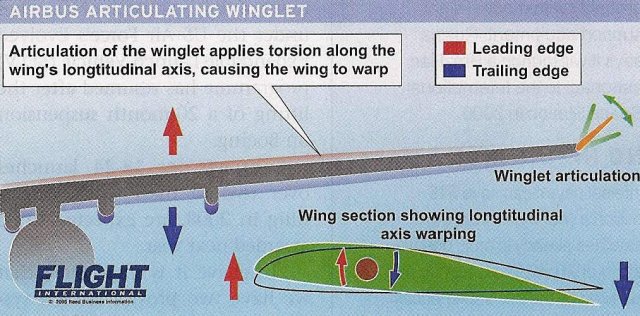 Drags and lift of the Airbus A340
LIFT cruise : CZ 0,45 à 0, 55
LIFT takeoff : CZ 1,3 à 1,6

DRAGS cruise:
42% friction drag
12% drag of intereaction
2% residual drag
33% induced drag

WIND TUNNEL TESTS MUST BE MADE IN LOW SPEED
MACH 0,2 TO MACH 0,3

THE MODEL USED FOR THE TESTS ( AIRBUS OR ATR)
MUST HAVE AN ASPECT RATIO BETWEEN 7.5 AND 12
THE ONE OF THE AIRBUS BEING 9

NOW THE GAIN ACQUIRED BY THE WINGLETS IS OF :
3 TO 4% OF THE INDUCED DRAG (GROSS GAIN)
AND ABOUT 1.2% OF TOTAL DRAG (NET GAIN)

The Journal of the Technology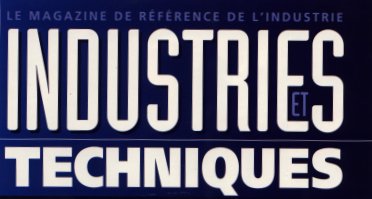 Aerodinamisme - The fins boost the Boeing aircrafts

Placed in the wingtip, the fins reduce the drag of the aircrafts.

Boeing go into partnership at the Aviation Pattners company to transform the wingtips of its planes. The winglets or fins are extensions, arrow in above that enhance the aerodynamic performance of the aircraft.

Saving of kerosene

The induced drag reduction it results in a performance increase of flight in cruise , a reducing of fuel, a capacity increased payload, or the access to air routes previously not allowed. The company thus formed Aviation Partners Boeing will ensure all operations, from design to installation on all proposed transport aircraft from Boeing. Already, Aviation Partners has completed the installation of fins on Gulfstream jets, and the BBJ. The tests showed an improvement in drag of 5 to 7% on the BBJ model. This fin has a curved 360 ° to loop over the wing. The product itself will not be on the aircrafts before three years. The pieces are made of composite material and aluminum.

Of variable size, they can reach 2,5 m high and increase the wing span of 1.5m



| | |
| --- | --- |
| | Loop on the wing, when the fins will be certified, they will equip Boeing soon. |